Sumba is still mostly virgin from buildings and constructions. Lands on market are wide and still sold by HECTARE (10,000m2) not by ARA (100m2) like on other islands.
Prices are still very affordable compared to Bali or Flores for instance, but they are increasing extremely fast and many investors are keen to put their money in this island as it is seen as "The new Bali" in term of investment.
In our opinion, it's even rising faster than Bali.
Lands are being sold freehold. Only a handful of properties are on a leasehold basis.
Price Evolution
A few years back only properties were still being traded for cattle instead of money. 1 hectare was then sold between 5 and 10 water buffaloes. Times have changed!
Let's get a closer look at the west part of Sumba were development is faster than any other areas:
North West Sumba, land price beachfront: from IDR 750 million to 2.5 billion per hectare (2014)
South-West Sumba, land price beachfront: from IDR 1.2 billion to 3,5 billion per hectare (2014)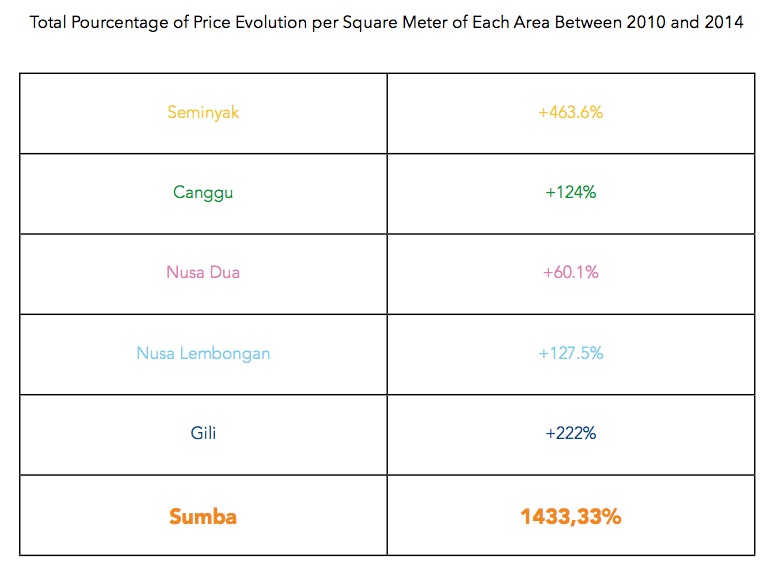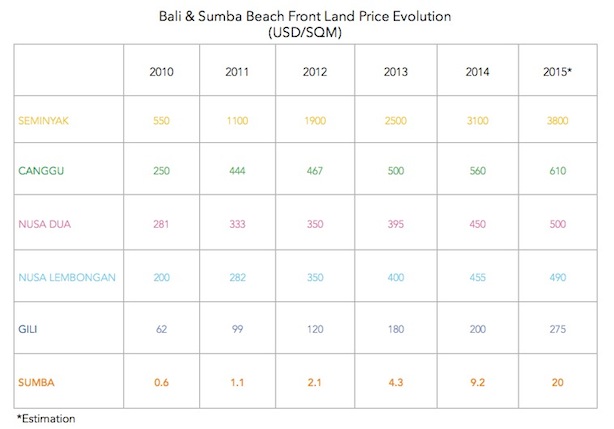 Sales Evolution
These Last 3 years Sumba clearly revealed itself as a gem for investors. Beautiful nature and culture, amazing settings, wonderful beaches, and best spots for surfers as for quiet get away, everything is there to prospect for new businesses turned toward tourism.
If many beaches are already sold in the southwest part of Sumba, there are still good opportunities to find. It is still very complicated to find accurate numbers of the amount of IDR exchanged in real estate deals, but it should come up in the next couple of months taking how fast the development is going.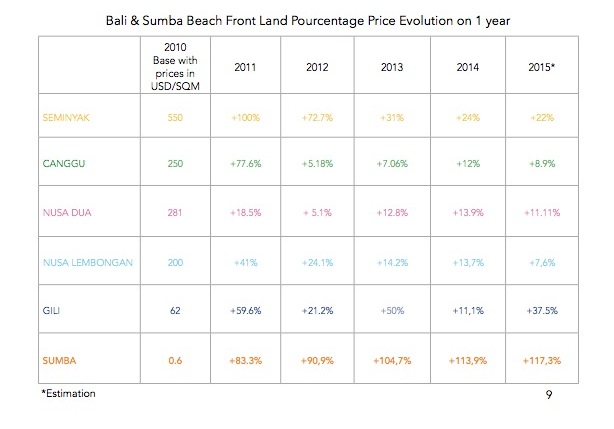 Here is the evolution of the average price in USD per ARA (100m2) between Bali, Lombok, and Sumba (beachfront). Sumba prices evolution (yellow color, last line) is more precisely known from 2010, before lands were negotiated mostly through barter or under unregistered prices.